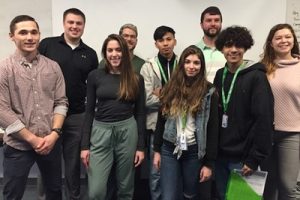 By Karen Angelo
Read the full article at UML.edu
The "Jeopardy!"-style quiz created by physical therapy students triggered discussions, laughter and teamwork among high school students at the Lowell Middlesex Academy Charter School. The high school students wagered points, competed in small groups and, along the way, learned about health and wellness.
For the six physical therapy doctoral students who recently wrapped up the semester-long project at the charter school, it was a learning experience, too. They were among eight groups of PT students who partnered with local schools and rehabilitation, dance and senior centers as part of their service learning course.
"The service learning project has helped me as a clinician in terms of communicating health and wellness strategies, thinking of ways to keep it interesting and empowering the people whom I am trying to reach," says Luke Parsons, who expects to complete his degree in 2020.
Middlesex Academy Charter School nurse Amy Hendl, who worked with the PT students during the semester, says the school values its partnership with UMass Lowell.
"The physical therapy students are dependable, professional and receptive to feedback," says Hendl, who earned a B.S. in nursing from UMass Lowell in 1992. "We've been very happy with this partnership, because our students are receptive to the PT students and therefore absorb the health information. The UML students take their role very seriously and are very easy to work with."
The physical therapy students taught the high school students about nutrition, sleep, vaping, stress, exercise, nutrition and more.