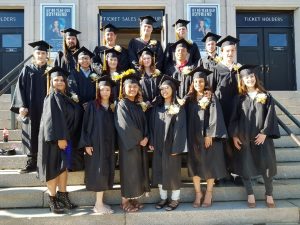 One of the first charter schools in Massachusetts, the Lowell Middlesex Academy Charter School (LMACS) , located in Lowell, Massachusetts, is a public charter high school catering to students who have left their district high school prior to graduation and those significantly at risk of dropping out of these schools. We generally enroll students 16 to 21 years of age and primarily from Lowell, but we serve students from all over Massachusetts, including Billerica, Chelmsford, Dracut, Lawrence, Methuen, Tewksbury, Tyngsboro and Westford. The program has grown from a dropout recovery program to a comprehensive program serving up to 150 students.
Our curriculum and interventions are designed to meet the needs of over age students enrolling with very little high school credit and those who have on-going obstacles to regular school attendance. The school defines success through the emotional and mental health of our students, as well as college and job readiness and test scores. The school does not ask students to apologize for past school failures, but we do hold them to high standards – standards that reflect academic achievement, progress toward 10 Ethical Values, and the ability to make an informed decision about educational and career options when they graduate. 
Upon graduation, each student will have a high school diploma, clearly demonstrated set of academic skills and a clear awareness of the rights and responsibilities of U.S. citizens.
Our Mission
The mission of Lowell Middlesex Academy Charter School is to enable its students to achieve academic, social, and career success. This supportive school community identifies, encourages and develops interests and abilities, while acknowledging and respecting each student's personal and cultural identity.
Our Vision
The curriculum of LMACS is built around a core of academic subject areas and is supplemented by required socio-emotional courses and groups.  The LMACS curriculum reflects our small size and mission-driven culture. LMACS graduates will be able to:
Read critically and analytically;
Communicate effectively in writing and orally to a variety of audiences;
Problem solve in a variety of circumstances;
Use technology as a tool to gather, analyze and present information;
Demonstrate a clear awareness of the rights and responsibilities of a community member;
Demonstrate an understanding and knowledge of a career or educational option in order to develop a plan for the future.
LMACS does not discriminate on the basis of race, color, sex, religion, national origin, sexual orientation, disability, gender identity or homelessness.  We are committed to the success of every student.
Applying to LMACS
LMACS accepts students three times a year: August, November and March. Students wishing to enroll at LMACS need to complete an application and submit a complete school transcript. Students are admitted to LMACS on a first-come, first-served basis.